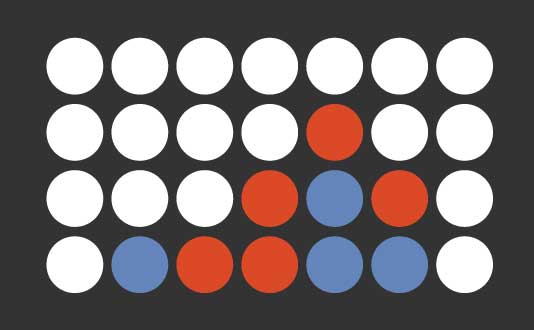 Course Outline
Level
Beginner
Suitable For
Adults and Teenagers
Description
Learn the basics of artificial intelligence by programming your computer to play Connect 4.
Detail
Approaches in AI
We will take a brief look at various strategies for AI programming.
Noughts and Crosses
We will examine some AI approaches for a simple Noughts and Crosses game.
Defining the Problem
We will create a model of our Connect 4 game to represent the game state. We will write some code in Python to implement the model.
Searching for a Solution
We will apply what we learnt from our examination of the Noughts and Crosses game to search for the best move from a given Connect 4 game state. We will write some code in Python to implement the search.
Optimising our Search
We will look at ways to make the search quicker. We will write some code in Python to implement the improvements.
Other AI Techniques
We will take a look at other AI techniques such as neural networks and decision trees.
Personal Improvements
Students advancing rapidly through the content will have a chance to make further improvements under the guidance of the tutor.
Price
Full price individual: £160
Concession individual: £120
Concession pricing is available to anyone in full time education.
Skills you should have before you attend
You should be proficient in Python
What courses can I do before ?
To prepare for this course you can attend the following courses:
Introduction to Programming: Build Applications with Python
Skills you will pick up in the course
Key skill categories
Artificial intelligence
Python programming
Object oriented design
Algorithms
On successful completion of this course, students will be able to
Explain a few strategies for AI.
Analyse strategy games from an AI perspective.
Breakdown complex computational problems into manageable tasks.
Write Python code to implement an AI algorithm.
Dates